Dear festival-goer
In these complicated times, it is important for us to write to you these few words.
First of all because we need it, we miss you and we think about you a lot. The stress of the past few weeks has encouraged us to stand strong and united, after which, we must keep you informed of the situation.
Rock Oz'Arènes is a big family. We concert our efforts regularly and continually work with all our might. We are still hopeful about holding the festival. Many questions arise, but we wish to remain positive. It is obvious that the final choice is not ours and that health issues are the priority. This is why we remind you that it is important to follow the instructions in order to get out of this situation as quickly as possible.
We follow the directives of the authorities very closely, we understand them and we practice them. Obviously, we will keep you informed of developments and decision-making concerning the festival.
In the meantime it is essential to take care of each other, to be courageousand to support each other. We thank all those people who work hard to ensure our daily life: the hospital staff, but also the postal service workers, delivery people, cashiers, site workers, pharmacists, cleaning crews and many others, without whom we would be clueless.
What if we took advantage of this period of confinement where time is slow to remember our best memories of Rock Oz'Arènes? Send us your photos, anecdotes, videos: either by email at info@rockozarènes.com or tag us on social networks with #rockozmemories
We will publish them because this festival is an ode to joy and kindness and we look forward to seeing you again soon.
For the more impatient of you, stay connected! We regularly post favorite videos about the momentum of creativity and generosity that infuses this period.
To liven up your aperitifs or your home gym lessons, listen to our Spotify playlists. Regrouping the artists present at our latest edition of the festival.
And as we love to laugh so much, we have prepared a nice skull for you to tinker with if your fingers itch and you have hidden talents with scotch tape! Download PDF plan here!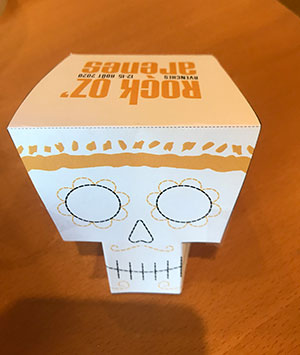 Thank you for your support, see you very soon!
The Rock Oz'Arènes team